The Remote Leader's Guide to Managing a Team
My lessons and thoughts from my time managing a distributed
team, as well as running a company remotely.
In the past four years, I've lived in three different countries. During that time, I've also managed a remote team spread out across three continents.
Some of my team worked from an office, while others were completely remote. The same goes for me. I've worked full time from an office in Dublin and also Boston, and I'm now fully remote working from London.
Add to this that I co-founded a company with two people, neither of which live in the same country as me. I'd never actually met one of my co-
founders in person until we'd owned a business together for six months, so it's fair to say that I'm well acquainted with a remote working environment.
In this article, I'm going to share some of the things I've learned from my time as a remote leader over the past few years. You'll be able to apply some of this directly to your own situation, while other parts of my experience might be less relevant to your situation. This is all part of the nuance of both leadership and remote working.
The different approaches to remote work
Every company takes a slightly different approach to remote work. While the prospect of allowing your employees to work from anywhere can terrify some companies, others have fully embraced it and have completely ditched the need for any office locations altogether. The likes of InVision, Zapier, and Automattic are just a few examples of the growing number of companies that operate completely remotely. It's not all or nothing, though. Trello, Basecamp, and HubSpot (where I work) all have a hybrid remote setup where some of their employees work remotely, while others work from one of their offices.
Each of the various remote work setups comes with its own advantages and disadvantages, and they also require a fair amount of adaptability when it comes to how you'll manage your team.
For example, having a completely distributed team means that everyone is bought into the remote working culture, which means they'll naturally have empathy for one another and understand the challenges that come with remote working. It's also much more likely that your company is set up to facilitate remote working more effectively.
That said, having a completely distributed team can make it very difficult for team members to get to know each other on a personal level. There are often much more scheduling issues when there are multiple time zones to account for, and organizing in-person meet-ups can be particularly tricky if your team is spread out across the globe.
Organizing in-person meetups is typically a little easier if you have at least one office, because you can pick one central location – often where most of your in-office team are based – and coordinate travel there.
Having an office means that you can have new remote employees come in and meet everyone during their onboarding, giving them a way to form bonds with the team early on.
The downside of this model is that remote workers can feel like they're missing out on exposure to management that in-office employees get, which could lead to them missing out on potential opportunities to grow within the company. In-office workers can also feel like they're given less flexibility than their remote co-workers. These are all challenges that a remote leader has to address.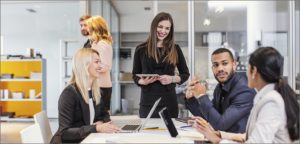 Encouraging empathy within your team
This not only helps your whole team develop more empathy for each other, but it really pushes the boundaries of your technology stack, surfacing issues that you might not have noticed until you reach a certain scale (video conferencing software is one that comes to mind).
If you plan on doing a remote week with your team, I'd recommend putting the following guardrails in place:
None of the team are allowed to come into the office for the week.
Each team member will be given a small budget that can be used to cover expenses for things like WiFi, co-working spaces, travel to a new location, etc.
Everyone on the team needs to be available for meetings within a 3-hour time-window (if everyone is in the same time zone you could increase this to 5 hours).
Each team member fills out a small journal entry at the end of the day to document how the day went, any challenges they faced, any deviations from their regular schedule that they implemented, and any ideas for how things could be improved.
Communicate clear working guardrails for your team to follow
If you haven't worked remotely before, I wouldn't hold it against you if you have an image of someone sitting on a beach, sipping cocktails while they complete their two hours of daily work before heading onto a flight to another exotic location.
Well, the reality is often very different.
WiFi challenges, scrambling to find a quiet place to work from, late-night meetings or painfully early starts, your dog thinking it's a never-ending playtime when you're trying to get things done – these are just a few of the daily realities.
Few things demonstrate this perception better than a search through stock images of remote work, as was highlighted in this tweet from my colleague and friend, Kieran Flanagan.